Impact for All: EDI and Knowledge Translation in POR
July 23 @ 9:00 am

-

11:00 am

Free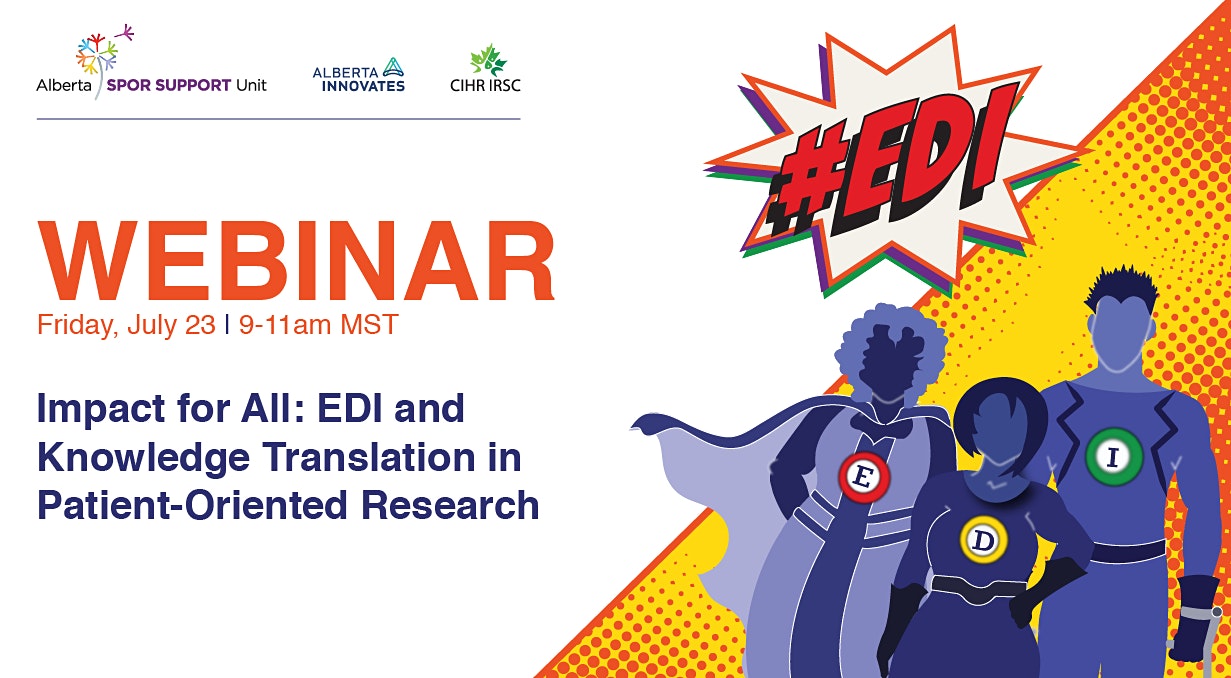 Session 2 in AbSPORU's "Shaping Patient-Oriented Research Environments Through Equity, Diversity and Inclusion" webinar series
Join us for the second instalment of AbSPORU's webinar series on Integrating Equity, Diversity and Inclusion (EDI) and Sex and Gender-Based Analysis (SGBA+) into Patient-Oriented Research (POR).
This session's theme is "Impact for All: EDI and Knowledge Translation (KT) in POR" where we will focus on the following learning objectives:
Describe different types and measures of research impact afforded by inclusive POR.
Explain how strategies to ensure EDI in POR align with the integrated knowledge translation model.
Describe how inclusive research teams influence research output and knowledge translation processes to enhance health equity and outcomes.
We have an exciting session lined up with great speakers who will cover a range of topics including:
Challenges in creating KT tools for diverse audiences, and strategies for translating content and messaging for diverse cultures;
Working with a diverse public/patient advisory group to foster more inclusive and impactful KT;
KT approaches for encouraging vaccine uptake; and
Inclusive community engagement to enhance community-based research outputs and KT impacts.
Speakers will include:
Laura McAlpine, Knowledge Translation Project Coordinator, AbSPORU
Dr. Shannon Scott, Principal Investigator, ECHO Research & Professor, Faculty of Nursing, University of Alberta
Dr. Lisa Hartling, Director, ARCHE & Professor, University of Alberta, Department of Pediatrics
Sarah Elliott PhD, Assistant Director, ARCHE & Program Manager, Cochrane Child Health, University of Alberta, Department of Pediatric
Julie Leung, Member Pediatric Parents' Advisory Group (P-PAG)
Dr. Jia Hu, Medical Officer of Health – Alberta Health Services, 19 to Zero Project
Dr. Cora Constantinescu, Pediatric Infectious Disease, Clinical Assistant Professor, University of Calgary , 19 to Zero Project
Catherine Turner, Can-SOLVE CKD Indigenous Liaison Manager
Simone Dew, Can-SOLVE CKD Special Projects Coordinator